Ready to Take Earning Money with Online Surveys Seriously? Set Your Own Paycheck Goal with MakeSurveyMoney.com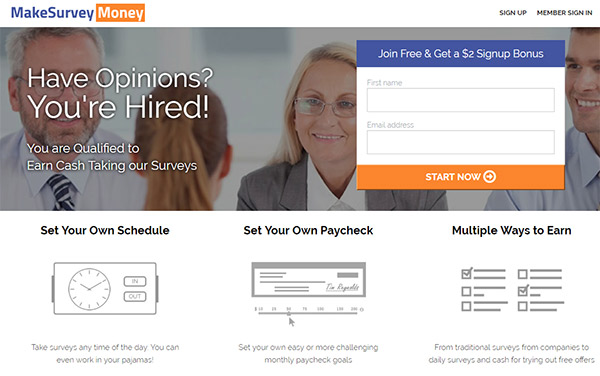 Survey and rewards site makes it easier to earn money participating in online surveys with new paycheck goal tool
New York, NY - MakeSurveyMoney.com launched its Set Your Own Paycheck feature today, a new tool that makes it easier for online survey takers to reach their financial goals.
MakeSurveyMoney.com provides a variety of ways to earn a paycheck through their survey and rewards site. Now, when a member signs up with MakeSurveyMoney.com they'll be welcomed to the countdown clock and paycheck tool. When viewing the feature settings, they can see how much they should earn on the site daily to achieve their paycheck goal within their desired time frame. For example, to earn $600 in 30 days, the user should make $6 daily. Although payouts per survey vary, this is achievable if the user takes approximately one to six surveys per day.
"While it's not a replacement for a 9-5 job, taking surveys can be a fun way to supplement one's income," said Scott Brown, CEO of MakeSurveyMoney.com. "We believe our set your own paycheck feature provides an engaging way for our users to visualize progress towards their supplemental income goals."
Like most jobs, survey taking pays more if the user is consistent and accesses surveys on a regular basis. MakeSurveyMoney.com makes it convenient for users to choose the type of surveys or offers that work best for them. The paycheck feature, along with the company's punch clock feature, reminds users to come back to the site and take surveys daily.
Online survey taking has become an increasingly popular method for supplemental income. Companies are looking for the opinions of everyday consumers and online surveys is an easy way to share opinions about your favorite brands and products.
About MakeSurveyMoney.com
MakeSurveyMoney.com is a survey and rewards site, where users can earn money participating in online surveys and paid offers. It was launched in 2015 and has been rapidly increasing its membership. The "Set your own Paycheck" feature is just the latest example of the kinds of benefits MakeSurveyMoney is constantly developing to provide its members with engaging ways to earn money online. Learn more about MakeSurveyMoney.com on the web at https://www.MakeSurveyMoney.com.